Be honest. You want that blue checkmark, don't you? No matter the platform, getting verified is one of the best ways to establish credibility on social media. With social media filled to the brim with fake accounts and bots, it just makes sense that social media platforms let brand accounts get verified so users know they're legit. In this article, we're going to share the steps you can take to get verified on Facebook.
Get verified on Facebook
Learn how to get verified on Facebook to build credibility and improve your page's discoverability.
Getting verified on Facebook is a great way to establish brand credibility online. Both large brands and local businesses can be verified on the platform.
A couple of years ago, Facebook offered both blue and gray checkmarks as a way to signal the authenticity of smaller, local brands. They've done away with the gray checkmark, but the blue checkmark is still available to businesses on the platform who are interested in getting verified.
The gray or blue verified badge lets your audience know you're authentic and helps your page show up higher in search results so potential customers can easily find your business.
Why Get Verified on Facebook?
What does it mean to get verified on Facebook? And why does it matter?
As we touched on earlier, brands, businesses, and public figures can easily run into copycats trying to imitate them. This doesn't have to be for nefarious purposes, either. How many times have you been excited to see that some celebrity or another liked your online content only to find that it was actually a fan page and not the real deal? Even if the intent is good, there's still a risk to you, your brand, and your online reputation if other users think they're dealing with you and they aren't.
When you get verified on Facebook and other social media platforms, it gives your official Page credibility and makes it less likely that other users will mistake you for an imposter.
Plus, Facebook gives priority to verified accounts and Pages in search results. This means that getting verified on Facebook could increase your reach by showing your official content at the top of the search results.
When other users see that you're verified, they know that they can get customer service, shop, and engage with you and your brand without worry.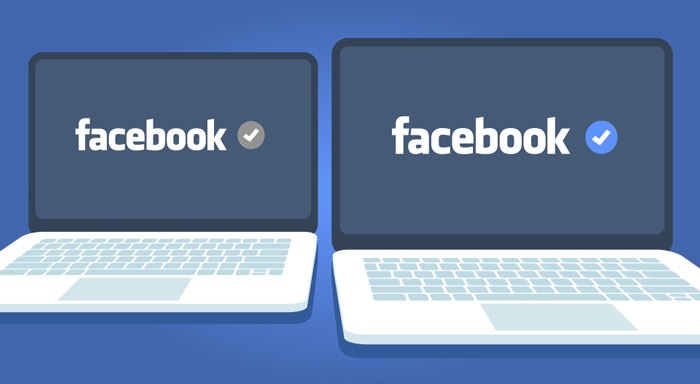 Also Read:
How to Get Verified on TikTok ?
4 tips to help you get verified on Facebook
The Facebook verification process has some requirements that need to be fulfilled before you can receive that coveted blue or gray checkmark.
1. Keep it professional for getting verified on Facebook
To make sure Facebook immediately recognizes your Page as associated with your business, your account should be an official representation of your brand. Ensure you are only sharing on-brand content to your Page, and remove anything that negatively affects your credibility such as:
Off-brand logos, personal posts, or low quality images
Posts containing incorrect grammar, spelling, capitalizations, or other unprofessional looking copy
Anything that doesn't fit your brand voice
Take a look at your business' page through the eyes of a potential customer and edit or remove anything that looks less-than-professional.
2. Make sure your information is up to date to get a blue check
If your information isn't kept up to date, it won't matter how professional your Facebook Page looks. Facebook will review and validate your information before they grant you the verification badge so you need to ensure it's accurate.
You will need to ensure the following is up to date:
Your website
Email address
Description
Bio
3. Link to official properties to get Facebook verification badge
The right links are important if you want to get verified on Facebook. In order for Facebook to approve your verification request, you must have an up to date link to your business' official website. You must also link back to your Facebook Page from your website.
Also Read:
Content Marketing and PPC Advertising to Increase Website Traffic
4. Provide details for Facebook badge
The more details you can provide about your business, the better. So, make sure you've filled out all applicable details in your business Page's About section. These details include:
Address or addresses (if you have multiple locations)
Phone numbers
Your mission statement
Your other social channel handles
A company overview
How to apply for Facebook verification
Getting verified on Facebook is free, but you're still going to need to put in the effort to get your Page set up so Facebook hands over the checkmark.
Before submitting a verification request, review your Page for accuracy and fill out your website, bio, email address, and business description. The goal is to include all the information possible so your Page screams "credible and legitimate!" at the Facebook verification gods.
All ready to go? Let's do it!
Step 1: Go to the Verification Request Page
Start the verification process on the Facebook Request a Blue Verification Badge page.
Step 2: Choose Your Verification Type
Choose your verification type. You can get a Page or your profile verified, but it's important to note that the approval criteria is a bit more involved for profile verification. Either way, you need a lot of followers to prove that you're blue checkmark material.
Step 3: Choose the Page or Profile to Verify
Now, choose the Page or profile you want to get verified on Facebook. If you're requesting profile verification, you'll provide your profile URL. For our example, we'll say we want to verify a Page.
Step 4: Choose the Category for the Page or Profile
After choosing the Page or profile you want to verify, you'll need to choose the category it belongs to. Facebook offers just a few categories to choose from. If you can't find a category option relevant to your Page, just choose Other.
Facebook verification process
Next, you'll need to add the country. Just start typing your country name in the field and you'll get a list to choose from.
Step 6: Attach the Necessary Identification Material
This step varies depending on whether you're trying to get a person verified on Facebook or if you're interested in verifying a business. If the verification is for a person, Facebook requires that you upload an official photo ID that shows the name and birthdate of the person you're verifying.
To verify a business, organization, or other non-person entity, you'll need to provide documentation that includes an official seal or watermark of your organization. Facebook accepts:
Your organization's phone or utility bill
A certificate of formation
Articles of incorporation
Tax or tax exemption documents belonging to your organization
Step 7: Detail Why You Want Verification
The next step to getting verified on Facebook is letting Facebook know why your Page or profile should be verified. If you have a particularly notable account, verification might be of public interest. In this case, you'd share mentions from reputable news outlets. Or, maybe your Page or profile is at risk because of imposter accounts. In this case, you'd want to include links to prove that you're at risk.
Facebook also gives you the option to include your other social media accounts so you can show that you have a large enough following to warrant verification.
That's it! Once you've filled out the form and attached the appropriate documentation, it's time to submit your verification request by clicking Send in the lower right corner of the screen.
also read :
How to Get Verified on Twitter ?
Facebook verification process
Now that you've submitted your request for Facebook verification, all you can do is wait. Facebook doesn't guarantee a response time—it could be anywhere from 48 hours to 45 days. If you're trying to get a business account verified on Facebook, expect it to take longer since Facebook will need to manually review the documents you submitted for authenticity.
Who can get verified on Facebook?
Although in theory, anyone can get verified on Facebook, they have to meet strict verification criteria in order to get approved. Besides following the company's terms of service, your account should be:
Authentic – It should represent a real person, entity or business.
Complete – It should be active and have all the necessary details such as an "About" section and a profile photo. In addition, it should have at least one post.
Notable – The person, entity or business it represents should be well-known and get plenty of searches. Facebook is more likely to approve your application if multiple news sources and publications feature the account.
Unique – It should be the unique presence of the person, entity or business it represents. Facebook only verifies one account per business or person, with the exception of language-specific accounts. And note that it doesn't verify accounts for general interests. For example, it won't verify a Page dedicated to healthy food but it will verify a page representing a registered publication that's dedicated to healthy food.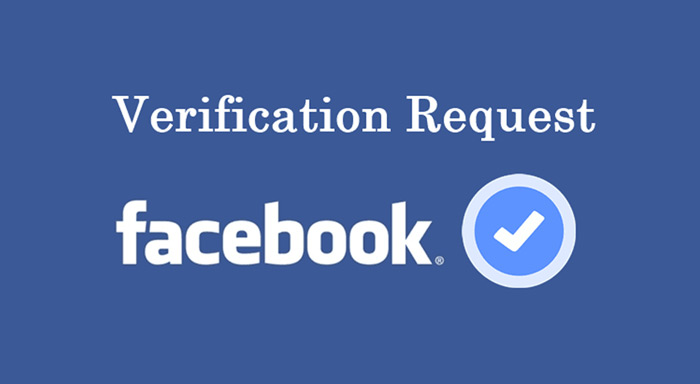 Who can get verified on Facebook?
The above requirements are only the bare minimum and don't necessarily guarantee that you'll get verified. To improve your chances of getting verified, make sure that your account looks highly credible.
This means regularly publishing highly informative and engaging posts instead of sticking to the minimum requirement of one post, for instance.
How long does it take to get verified?
The time taken to get verified on Facebook differs from account to account.
Although Facebook doesn't specify the typical timeframe, you could get a response as soon as 48 hours or wait up to 45 days.
It may take longer to verify accounts representing businesses as the Facebook team will have to manually review your documents to confirm their authenticity.
Also Read:
How to Get Verified on Instagram ?
What happens if Facebook Rejects my Verification Request?
So, you tried to get verified on Facebook and they said no. It might just mean that you need to improve your Page or profile and submit another verification request. Go back to the Laying the Groundwork section of this article and make sure that you've done everything you can to create a credible account.
Make sure you've included as much information as possible to boost your credibility. If you're a published writer, you can add publications to the Impressum section. Plus, work to get more mentions, reviews, and other types of social proof from other users and Pages, too.
If you have a great Page or profile, you can always reach out to Facebook for more information about your verification rejection.
If you've been rejected, you can reapply for verification after 30 days. During that time, it's important to put in work to improve your Page or profile and your online presence so you have a better chance of getting verified the next time.
This means creating more high-quality content, keeping a regular posting schedule, boosting your Facebook marketing efforts, and working to boost your online presence on other social media platforms, too.
Conclusion of Facebook verification
If you want to get your Page verified by Facebook you'll need to put in the work to make your online presence as strong as you can. Ironically, getting verified on Facebook and other social media platforms goes a long way toward further strengthening your online presence.
When you've taken the steps to get your Page or profile verified, it shows customers and potential customers that your brand is credible and legitimate. Plus, the blue checkmark lets them know that they've come to the right place.
Getting your Page or profile verified on Facebook is an easy process, so follow the steps above and get verified on Facebook now!