Getting verified on YouTube or getting a YouTube verification badge is massively important for anyone who is interested in social media marketing. But it's not easy to get that little grey checkmark (and maintain it). If you don't know how to get verified on YouTube, you've come to the right place. This post will show you how.
How to Get Verified on YouTube
Maybe you've already tried to get your YouTube channel verified, and you were rejected. Maybe you earned it, and not long after, you lost it without knowing why. Or maybe you just don't know where to start.
It might take some time, but it's definitely possible. And it's worth it. If you don't know how to get a YouTube verification badge for your channel, you've come to the right place. This post will show you how.
Also Read:
How to get verified on Facebook ? blue checkmark
What is YouTube verification?
Can you name the founders of YouTube? Unless you're an avid tech trivia fan we're guessing not. In fact, it was three former PayPal employees – Chad Hurley, Steve Chen and Jawed Karim – who were the brains behind what is now the world's second biggest social media site.
It wasn't until a year and a half after YouTube's launch in 2005, and an explosion in popularity, that Google bought up the business for a cool $1.65 billion.
Of course, YouTube's founding fathers have got plenty of reasons not to care about their relative anonymity. But we think it's a shame. All that hard work for minimal recognition. Which, if you've been regularly uploading world-beating content to your channel and diligently building a following, is a situation you might be familiar with. In which case, you deserve more credit too.
This is where YouTube verification comes in. Not the straightforward kind that you get when setting up your account. We're talking about that little grey tick box next to your channel's name that tells the world you're legit.
It's a badge of honor to gain one of these notoriously exclusive check symbols because they serve as a literal mark of approval from YouTube. It shows that your channel is an authenticated brand deemed worthy of the vlogosphere's attention.
Why is it important to Get Verified on YouTube?
Achieving YouTube verification doesn't grant access to favorable treatment, but it does bestow you with a whole lot of social proof. We're talking jacked up credibility here.
Consider that little grey box the online equivalent of the little black book – it opens doors to a wider network of viewers who may not have heard of your brand but are willing to give it a look if YouTube deems you worthwhile.
As well as enhancing your brand's reputation, verification can protect it too. Your audience can sidestep any imposters looking to cash in on your content.
On paper, the eligibility requirements seem simple (though far from easy): gain 100,000 subscribers and submit a request to YouTube. If that was all it took then chances are you wouldn't be reading this blog now though would you?! In practice, YouTube's powers that be, and their trusty algorithms, ultimately have the final say over who's in and who's not.
There are a few things you can do to improve your chances though.
A YouTube verification badge and YouTube account verification: Are they the same?
The answer is a loud No! They're two different things.
YouTube account verification
Like other social media platforms, YouTube asks you to verify your account by adding a phone number the first time you create an account. This lets YouTube know you're a real human, not a bot trying to spam the site.
By verifying your account, you'll be given a facility to upload videos over 15 minutes long, add custom thumbnails, live stream, and appeal content ID claims.
That's a vital step to create a valid channel. Anyone who wants to monetize their YouTube channel should verify their account.
YouTube verification badge
When it comes to getting a YouTube verification badge, it's a bit different. And this is what we're referring to from the beginning to the end of this post. It's a badge of authenticity, as YouTube said:
If a channel is verified, it's the official channel of a creator, artist, company, or public figure. Verified channels help distinguish official channels from other channels with similar names on YouTube.
With a phone number, you can verify your YouTube account in a second. But it takes time and effort to get a verification badge because you need to achieve all the set benchmarks.
Also Read:
How to Get Verified on TikTok ? TikTok Verification Blue Tick
YouTube verification requirements
Previously, if your channel gained over 100,000 subscribers, you could quickly get a verification badge. However, many people think of a YouTube verification badge as a way of content endorsement, not identity. That's why the platform updated their verification policy.
Since October 2019, to get a YouTube verification badge, your channel must meet the following criteria:
Have at least 100,000 subscribers.
Be authentic, meaning your channel must represent the real creator, brand, or entity you're claiming to be.
Be complete, meaning your channel must be public and have a description, channel icon, and content, and be active on YouTube.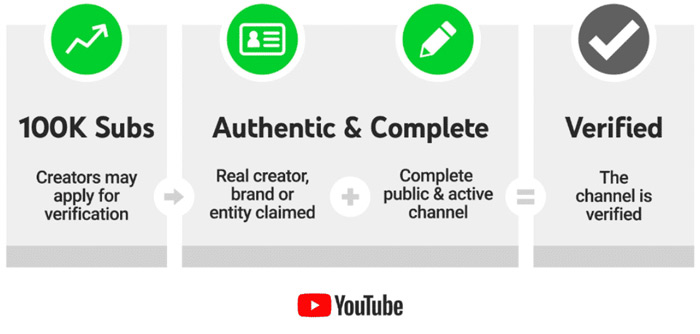 Also Read:
How to Get Verified Badge on Instagram ? instagram verification
How to verify a YouTube channel
To verify your account, you'll need to have an internet connection and a phone number. Keep in mind that some countries don't support the text-message option for verification.
Here's how to verify your YouTube account:
1. Go to youtube.com, and in the left-hand toolbar, scroll down and click "Settings."
2. Click "View additional features" (located under "Your Account").
3. Click "Verify."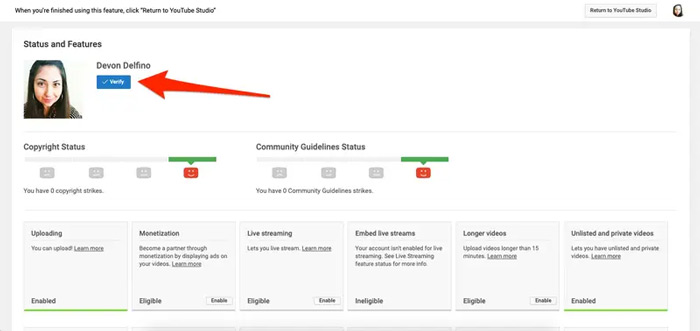 4. Pick your country of residence and choose whether you want to get a phone call or text (this is how you'll get your verification code).
5. If you select the phone call option, click "Confirm."
6. Enter your phone number and click "Submit."
7. When you receive the six-digit verification code, enter it in the text box and hit "Submit."
8. Once you go through this process, you'll get a confirmation message. Click "Continue" to return to the status and features page of your account.
9. On that screen, you'll also see the word "verified," along with a check mark, appear below your channel name.
How to get verified on YouTube
Okay, so you've amassed those all-important 100,000 subscribers. congratulations! If you're now wondering how to get verified on YouTube, here's a step-by-step guide on how to apply and what extra measures you'll need to take in order to gain YouTube's approval.
1. Visit Google Support
Just click on the following link: https://support.google.com/youtube/answer/3046484?hl=en, or copy and paste it directly into your browser.
2. Click 'Contact flow'
If you have the prerequisite number of followers, you'll find a link to Google's 'contact flow' in a grey box within the eligibility criteria section. If you don't have those 100k followers, it'll look more like this:

3. Choose 'Email Support'
The 'Contact flow' link leads you to a page where you can opt to 'Email support.'
4. Fill in the form
Fill in the form and be sure to answer 'yes' to the question: 'Is this a request for a verification badge?'
5. Submit…and wait!
Now it's a simple waiting game! YouTube should put you out of your misery within 24 hours. By which time your check symbol may or may not appear.
Is there any shortcut to getting YouTube verification?
Spammers or quick-money-makers always try to tell you shortcuts (often "break-the-rules" tricks) that promise immediate wins. You may see these offers everywhere!
Be careful with them. Like most easy things, they are too good to be true. After all, you need to comply with all the requirements YouTube has established to get your channel verified.
The best way to quickly get a YouTube verification badge is following proven tactics to grow views for your channel and get more YouTube subscribers. Think about these tips:
Be honest and transparent about what you're sharing. Creating incredible video content is good to attract viewers, but be sure it's relevant and real. Don't exaggerate the benefits of your product/service. Instead, go behind the scenes, for example, if you're selling a product, tell a story about where you get the materials and how you actually make it.
Respond to any comment you have on your videos. It's a great way to show you're real, and you value people's opinions/feedback. It also helps you start a conversation with new audiences and encourages them to subscribe to your channel.
Share videos often and consistently. Obviously, you don't need to post a video every hour or every couple of hours. But it's recommended that you upload at least one video per week, especially if you're just starting out or trying to build an audience.
Important tips to get verified on YouTube
Don't violate the Terms of Service
It's one thing to get verified on YouTube; it's another thing to stay verified. Even though you've met all the criteria and got a verification badge, YouTube can and will take it away if you then violate their Terms of Service or Community Guidelines.
Don't change your channel name
If you change your channel name, you lose your badge as well. But you can apply for verification again using the new name.
Conclusion
To sum up, gaining a YouTube verification badge isn't as easy as it seems; lots of work is required before you can get it. But as long as you follow YouTube criteria, you should have no trouble achieving that grey checkmark soon. Good luck!