At present, it does not matter whether you are a novice streamer or a professional one to get verified on twitch and benefit from the audience. How is this Twitch verified badge connected with income and social media marketing? Why is it necessary to aspire to get it? Explanations are below.
Getting verified on twitch
No doubt, you've come across people on Twitch who have checkmarks next to their names. You could have seen it on their profiles and channels – or you could have encountered them in someone's chat. No matter how you encountered your first checkmark, for sure you may have started wondering how you, too, could get verified on Twitch.
Also Read:
How to Get Verified on TikTok ?
How Does the Verification Badge Look Like on Twitch?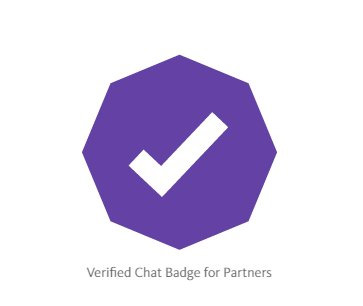 This white checkmark on a purple octagon is basically what you are gunning for. The badge itself was introduced in 2017 when Twitch first announced its Twitch Affiliate Program.
In that announcement, they also talked about the Partnered status which is a step-up from the Affiliate status. To distinguish between those two, they have created the checkmark for the Twitch verified Partners so they can feel a little bit cooler.
Twitch Verified User
If you are already a verified partner with Twitch, go to Settings and then Chat Settings; it's the same place you work on Automod or ban certain words.
There, you can edit appearance and add the new icon to your chat name. It will appear instead of the sub or Twitch Prime symbol that usually takes its place.
The Twitch Verified symbol doesn't really do anything, but it is cool to be able to show off your high-earning status in Twitch chat.
If you want to spam Resident Sleeper, go ahead, but keep in mind that this new symbol doesn't protect you from the banhammer.
A Twitch partner has to be really careful what they say in chat; one slip-up and your channel is gone.
Now that you've got a symbol that basically says "I'm a big-time Twitch streamer," there are going to be viewers waiting for you to write something dumb.
What is a Verified Badge on twitch?
Twitch verified badge is an icon that indicated a Twitch Verified user. It means that a streamer with Twitch checkmark makes part of an affiliate program in Twitch partnership.
Those streamers who a granted verified partner status are allowed to make money from the platform, and get a verification badge automatically.
Twitch is going to establish a policy for additional users to get the badge in the nearest future. Cool news for streamers with large audiences but without a checkmark.
Please note: there are some other badges on Twitch such as Broadcasters, VIP, Twitch Staff. However, they are marked with other labels.
Also Read:
How to get verified on Facebook ? blue checkmark
How to get verified on twitch?
Ever been curious about how to get verified on Twitch and get that cool looking checkmark badge?
Start Streaming to get twitch verified badge
In order for you to get partnered with Twitch, you need to go through a few hoops first. First and foremost, getting partnered means that you have to be streaming – so make sure that you get started on your channel!
There are so many tips and guides for how to start streaming on Twitch, all you need to do is make sure you start somewhere and try not to become overwhelmed.
Getting Affiliated for getting verification on twitch
The first milestone for a Twitch streamer is getting affiliated. Reaching this milestone is not impossible, and can often go by quickly if you play your cards right.
To get affiliated, you must:
Stream for a minimum of 500 minutes
Have streamed at least 7 times in the last month (30 days) – must be on unique days
Obtain 50 followers
Have an average of 3 concurrent viewers within the past month
If you can meet all of these requirements, you can get affiliated in as quickly as 7 days. Affiliate grants you the ability to make money on Twitch. You can start getting subs and bit donations, as well as emote slots!
Getting Partnered to become a verified twitch user
Although it may seem like getting affiliate on Twitch is easy, the same cannot be said about getting partnered.
Obtaining that glorious verified badge takes a ton of work, and for many, it can be a long grind that takes years.
To get partnered, you need to meet several milestones:
Stream for a minimum of 25 hours in the past 30 days
Stream on 12 different days in the last month
These two requirements are extremely easy – just stream often enough, right? What's so hard about getting partnered?
Well, when you factor in the fact that you need an average of 75 concurrent viewers in the past 30 days, that's when things get rough.
Meet all of these requirements and make sure you follow Twitch Terms of Service and you get a chance to apply for partner.
Getting partnered is not guaranteed even if you meet all of the requirements – Twitch will decide whether your stream meets their community guidelines, provides value to viewers, and truly meets requirements.
Only then will you get your checkmark. But don't worry, if you get declined, you can reapply!
Also Read:
How to Get Verified on YouTube? grey checkmark
How to Get Twitch Followers?
One of the most important parts of getting your qualification is getting Twitch followers. You need 50 to qualify for verification.
The best possible way to get Twitch followers is to be engaging and enthusiastic about your audience. It's also very important to be respectful towards them to. People want to see some showmanship, so always play games people want to see and ask them what they're interested in.
All of this will help you gain more followers and aid you in getting Twitch verified.
A platform member with this particular icon is a Verified user. The Twitch Verified badge uses the same icon graphic badge slot used globally on Twitch Prime, Turbo, and Bits.
This slot is different from the slot used for Broadcaster, Mod, and other badge icon graphics. Every partner is automatically allocated the Verified Badge. Twitch will release a policy explaining how other users can qualify for the badge in the near future.
Tips for verification
There are so many tips and guides out there for helping you to get partnered, but the truth is your mileage may vary. It all depends on your current situation, the game you are streaming, and the community you are building.
But in general, these tips may just help:
Set a schedule and remain consistent so viewers know when they can expect to watch you.
Set rules and enforce them in your community, and remember to always follow Twitch ToS.
Choose a smaller game to stream regularly until you become partner, as this allows you more chances to get seen. Otherwise, you might opt to stream variety (but expect partner to take a while this way).
Network and make friends with other streamers. Welcoming others into your community and having other streamers share you with their communities can make a big difference.
Do your best to always provide value to your viewers and your community.
Conclusion
Now since you know how to get verified on twitch and get that cool looking badge next to your name, you better start prepping because getting Partnered on Twitch is no joke.
If you strive for gaining Twitch verification badge, our detailed guide will exactly come in handy. Once you meet all of the criteria, Twitch will let you know that it is high time you became a partner. May it happen as soon as possible! Have a good time on Twitch.