The dating app Tinder is now allowing its users to prove they are exactly who they say they are, providing the option to "verify" their profiles. They do this by getting a blue checkmark on Tinder. It is similar to social platforms like Twitter and Instagram. This will mean that Tinder has confirmed the person in the profile photo to be a genuine user. Join Virlan to know more about this.
How to get a blue checkmark on Tinder
The dating app has come up with a photo verification method whereby selected users will be asked to take pictures in real-time.
Why does Tinder verification is important?
The internet is a great place because it allows you to be who you want to be but it can also be pretty bad because it lets you be who you want to be. And not everybody wants to be themselves.
Catfishing is the ample term we use to describe those who pretend to be others or distort parts of themselves to appear favorably online. We don't mean using a generous filter that that finetunes your skin or an angle that gets rid of a fivehead (guilty), it's when people straight-up lie about themselves.
And of course, it's rampant on dating apps – the corner of the internet where one tries to be as perfect as possible, to acquire a match and all.
So Tinder has come up with a feature that hopes to stop people from catfishing. It is verified blue checkmark on Tinder!
Selected daters will be asked to take a selfie that matches a pose shown by a model in a sample image. Tinder advises doing this twice before requesting verification.
The photos are then sent to Tinder's community team, which determines whether the account is legitimate or not. If all is as it should be, a blue checkmark will be assigned to the account to give their matches a bit of peace and mind.
Read More:
How to get a blue tick on LinkedIn ? LinkedIn Verification badge
Tinder's Comment about verified blue checkmark
Over on its website, Tinder reveals:
'We use a combo of trusty humans and facial recognition technology to compare the facial geometry in the selfies you submit and in your profile pics.'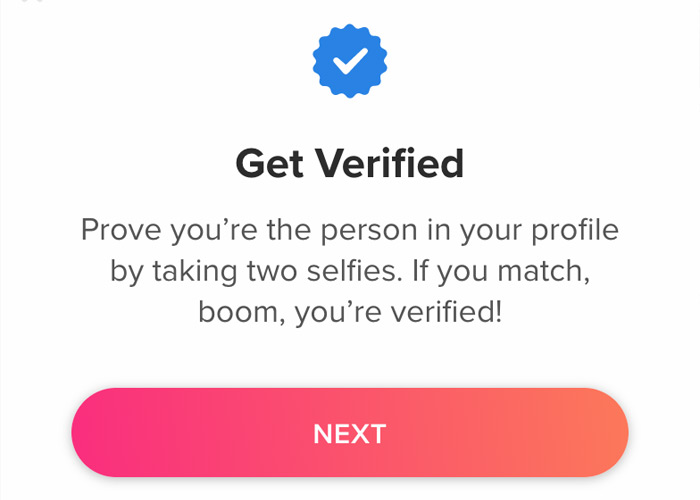 Apart from the selfie verification process, the company also says it's slowly rolling out a feature in "select markets" that detects potentially offensive messages and asks daters whether a message "bothered" them. If it did, they can report the person. The company says this feature will eventually lead to another called "undo" that'll give people the option to unsend a potentially offensive message.
Also Read:
How to get verified on TikTok ? the blue checkmark Verification
Tinder verification and Noonlight collaboration
Tinder is also announcing a partnership with safety app Noonlight to give US-based users free access to the app, as well as a new "safety center" where people can find resources and tools about dating online.
Noonlight syncs with various apps and devices, including Tinder, to provide on-call emergency service assistance.
Daters who sync their Tinder account with Noonlight can choose to display a badge on their profile saying they did so, which is meant to function as a kind of warning that they're protected.
People can tell Tinder and Noonlight when they're going on a date and with whom, and if there's an emergency during the date, they can take out the Noonlight app and hold down a button to summon emergency services.
Noonlight will ask for a PIN to cancel that request at first. It'll also text and then call. If no action is taken, emergency services will be called. Uber built a similar emergency calling feature into its app in 2018, as well as a safety center.
Generally, it seems like Tinder has picked up on other apps' efforts to keep users safe and is doing so in turn. It's playing a bit of catch up. Still, the offensive comment feature and emergency calling could have wide-reaching effects that might not only change the culture of chatting on the app for the better, but also give daters more peace of mind that they have a way out of a dangerous situation if necessary.
Also Read:
How To Get Verified On Snapchat? blue checkmark
How to get a verified blue checkmark on Tinder
In the app, go to your account page by tapping on the top-right head and shoulders icon.
Next to your profile picture, you will see a grayed out tick. Tap on it, and a bubble will appear asking you if you want to verify your profile. Confirm that you do.
Tinder will then show you a portrait of a model; using the in-app camera, you will need to strike a pose as similar as possible to that of the person in the picture, and take a photo. (You may need to allow the app to access your smartphone's camera to do this.)
You will be asked to submit a couple of different poses; this is to enable Tinder's facial recognition software to ensure that you are, in fact, the same person in the photos on your profile.
Once you have submitted the photos, Tinder will review them and let you know if you have been verified. You should get a response within a few minutes.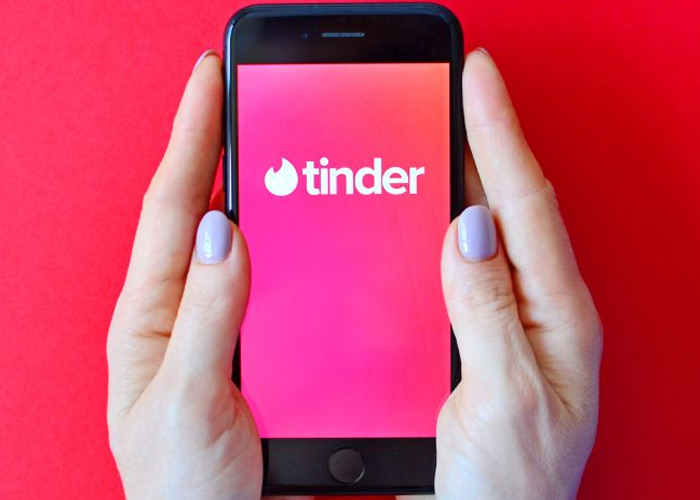 If you are successful, then a Tinder blue checkmark will appear next to your name on your profile, and people swiping through the app will be able to trust that the person they see in the profile picture will be the person they are talking to.
Also Read:
How to get verified on Facebook ? blue checkmark
Blue checkmark on Tinder: Bottom line
On January 23rd, Tinder started gradually rolling out its new Photo Verification feature. After taking a couple of posed selfies, Tinder verifies you are who you claim to be, and grants your profile that much coveted blue check mark.
Catfishing, the activity that involves pretending to be someone other than yourself on the Internet, is a big problem on dating apps. Many users have found themselves led on by and otherwise tricked into meeting up with a stranger who wasn't the person they were expecting, leading to, in the best-case scenario, a huge waste of everyone's time. Here to help solve that problem are blue checkmarks on Tinder.
It means that the profile is a verified one. It's a confirmation that the pics on the profile belongs to the person who is actually using it. Because in order to get a blue tick you have to verify your identity by taking two selfies. The app shows the pose and you have to imitate that style tats it. After that it will be cross checked with your profile photos based on facial recognition technique then if the result is positive, You will get that blue tick which makes you a verified user.