Small businesses are looking for the right opportunities to stay afloat due to the COVID-19 pandemic. Digital marketing is absolutely essential if you want your business to become a success. From helping you attract new customers to increasing your sales, the right digital marketing strategy can really take your business growth to new heights. It also improve all kinds of social media marketing. Join us to know more about Businesses Digital Marketing Strategies.
Digital Marketing Strategies for Small Businesses
A digital marketing strategy is an important part of the overall marketing strategy of a business. It is true whether or not a company is doing business online. It is also true for a small, medium, or large size company but especially true for a small company.
Small businesses marketing for a local company can include many offline local advertising methods but needs to include a healthy portion of digital marketing strategies to be successful and maximize sales in today's economy. A small businesses that are doing most or all of their business online needs to embrace a digital marketing strategy that helps online users see them.
There are five main areas of online marketing that are of interest to a small businesses. Some of them are more important to local, offline businesses, while others are more effective with online businesses. Many businesses engage in all five areas of small businesses marketing on the Internet.
Benefits of Online Marketing for Small Businesses
1. Higher conversion rates with the right strategy
One of the top benefits of digital marketing is providing higher conversion rates. The conversion rate is basically the percentage of visitors to a website who take the desired action.
Through conversion rate optimization, digital marketing agencies will enable your business to reach out to a higher number of visitors completing your desired goal out of the total number of visitors.
2. Achieving more targeted customers
As a startup or small business owner, you can accomplish your marketing goals and connect with your target customers easily via online marketing. With digital developments all around the world, millions of people use at least one online platform to get information about several services and products.
With the right strategy at the right time, you can connect with more potential clients for your business, and this efficient access is possible with an intelligent digital marketing plan.
3. Higher revenues for Small businesses with minimum cost
As one of the benefits of digital marketing for startups, marketing with minimal cost and higher revenues is the most desirable scenario, especially for small businesses.
At that point, digital marketing gives a hand to businesses to minimize the expenses in promoting products or services. By aiming the potential customers, digital marketing ensures favorable sales outcomes and eliminates the possibility of wasting your time and money.
Also Read:
Instagram Influencer Marketing : 6 Perfect Ideas
4. Providing real-time customer service
Customer service is essential if your target is to dominate the market because customer satisfaction is the key point to establish an absolute market presence.
Among the benefits of digital marketing, real-time customer service is one of the most profitable concepts offering a high rate of return for any size business.
Traditional marketing methods are insufficient to connect with customers directly. Therefore, almost all businesses benefit from digital marketing to interact with their customers in real-time to offer a faster solution.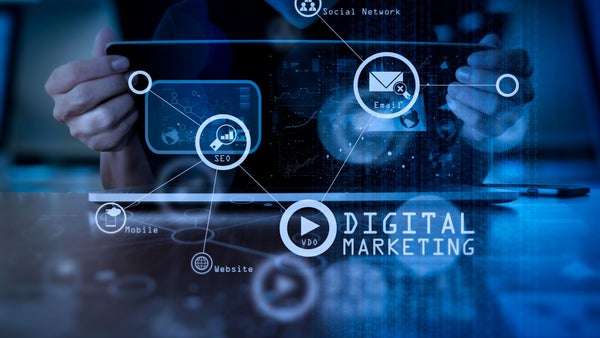 Online Marketing Strategies for Small Businesses
Expand Website Marketing Efforts
Search Engine Marketing
This portion of marketing is critical for a small business. It gives you a chance to compete with larger companies by being visible in search engines. Since people use search engines to find products both online and locally, it is important that your company place high in search results for words that relate to what you are selling. Professional Internet marketing firms offer this service under the name of search engine optimization. They can make sure your site is visible to those looking for your product when using a search engine.
Digital Marketing For Small businesses
Normally after search engine marketing, you can expect to find social media marketing or content marketing as the next online marketing strategy for small businesses but the increase in the number of mobile searches raises the importance of mobile marketing.
As stated by Google, mobile marketing isn't an option but it's imperative for every business. Some recent statistics about mobile usage re-enforce this statement:
What is your goal with mobile marketing? To provide your users with the best possible experience when browsing your website using their mobile devices.
How: How can you achieve the 'best possible experience'? First, you need to make sure that your website looks good and usable when viewed through a mobile browser i.e. you need to have a mobile-friendly version of your website.
Tools: Your starting point is to check your website with the Google mobile-friendly test tool.
Also Read:
Digital Marketing on TikTok & 8 new Technologies in 2020
Expand Website Marketing Efforts
Online visibility is extremely important for businesses in this day and age. If your business doesn't have a website, your presence within your market is essentially nonexistent.
Small businesses need look no further than their own web platforms to increase their knowledge of website marketing.
Social Media Marketing
This type of marketing can be tricky. Everyone talks about social media, but the truth is, it can be difficult for companies to integrate social media with their business. The type of media used, as well as how it is used, is dependent upon the type of business you have. For some companies being in touch with their customers and giving them breaking news can be an important element of success.
Other businesses, such as a local restaurant, have seen success using social media by letting customers know of the latest specials and new additions to their menu. The most important aspect of social media is to use it to strengthen your customer base to achieve repeat sales.
Also Read:
Pinterest marketing : How to Use Pinterest for Your Business
Local SEO Strategy For Small businesses
Since we are talking about small businesses, I thought that it is more appropriate to have local SEO listed as a separate strategy because it is very important for them.
Local SEO is a must for every company that has a physical address. Whether you are a doctor or florist, a mechanic or retailer, local SEO can help you find more customers online.
What is your goal from local SEO? The goal from local SEO is more than clear: to get high rankings for searches related to your area.
When people search for long-tail keywords with the addition of a location in the query (for example: "divorce lawyers in las Vegas") you want your website to be listed in the top positions.
How: There is no straightforward answer for that, as with any other SEO related question.
Also Read:
SEO Problems: Try SEO training to solve common technical issues
Small Businesses Need to Look Forward in Future:
Small businesses can grow online if they follow proven techniques and practices. When you build your website the first thing that you should look at is search engine optimization.
Once you get this right then you need to enhance your delivery channels by going mobile.
After that, you need to revisit your content strategy and ensure that you have content that matters and makes sense.
Next in line is social media marketing that will help you to push your content to the world.
Finally:
By providing high-quality content, you can excel with any of the marketing strategies we've covered. Find the approach that's right for your business, and make digital marketing work for you.