Pinterest is way more than "just" a social network. It's a visual search engine and productivity tool, too.
Moreover, you can now use this platform in social media marketing. It's time to step up your social media strategy and start using Pinterest for business! Let's here more about Pinterest marketing.
Pinterest marketing
Are you currently using Pinterest for business? If not, it might be time to put some stock into the idea—especially now that the company has gone public under the very apropos ticker "PINS."
Pinterest offers businesses a fairly unique proposition. Like other social media networks, it's a place to connect with friends and influencers.
You can also learn about Instagram influencer marketing and get some ideas..
Marketers target Pinterest users by sharing content that's too irresistible for us to pass up. And with over 250 million people on Pinterest, why wouldn't marketers want to be on the platform? Not to mention 90% of users say they look to content on the network to make purchase decisions.
Pinners come to the platform for inspiration—or "Pinspiration." They're planning their weddings, dream vacations, and holiday dinners. And because of that, they're not only receptive to brand content—they find it helpful.
First, What is Pinterest?
Pinterest is a social media platform in which users explore, share, and store visual content they find inspiring, helpful, or entertaining.
Users add, or Pin, their chosen content to boards with a common theme to keep it organized and so other users can discover new content related to their interests.
To make the most of the platform, upload your business's content from your computer or mobile device, Pin content you find on the platform, and add content you find on the web using the Pinterest browser button.
Engagement is key. Follow the boards of your friends and competitors, "Like", and comment on others' Pins, re-Pin (or repost) content, and share links to your website and blog in your Pins.
Also Read:
What Is Social Media Engagement ? Why is it so Important ?
Why Use Pinterest for Business?
Pinterest is a social network where people can find inspiration and ideas for their interests and hobbies.
Every idea is represented by a Pin, which is an image that is searched and saved by Pinterest users. Pins can also link back to websites, which is why Pinterest is great for driving traffic and sales.
And most importantly for businesses, Pins help people find more information on products they're looking to buy.
When using Pinterest for business, you should always include a link to your website with each pin – this could be a blog post, an online store or a company website.
Therefore, adding links to pins makes it super-easy for a Pinterest user to find out more about the Pin that has caught their eye, and potentially go on to make a purchase.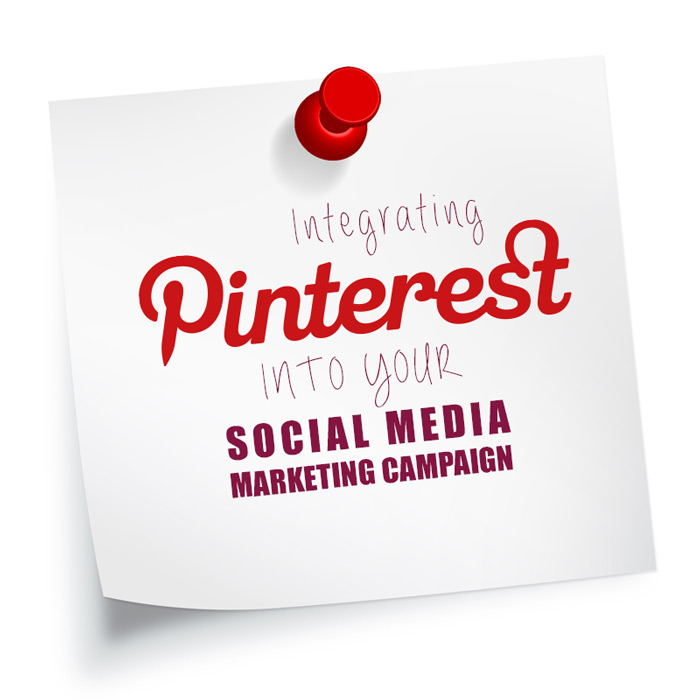 How to Use Pinterest Marketing for Your Business
These strategies represent ways to add Pinterest to your greater marketing efforts.
1. Set up Pinterest for Business Profile
If you've already set up a Pinterest personal profile, skip on to step #2 to find out how to convert your personal account to a business profile.
To create a brand new Pinterest for Business profile, just follow these steps:
If you have a personal profile, you need to log out of it before you can create a new account. To do this from the Pinterest desktop app, click on the three dots on the top right-hand corner of the screen and select 'Log out'.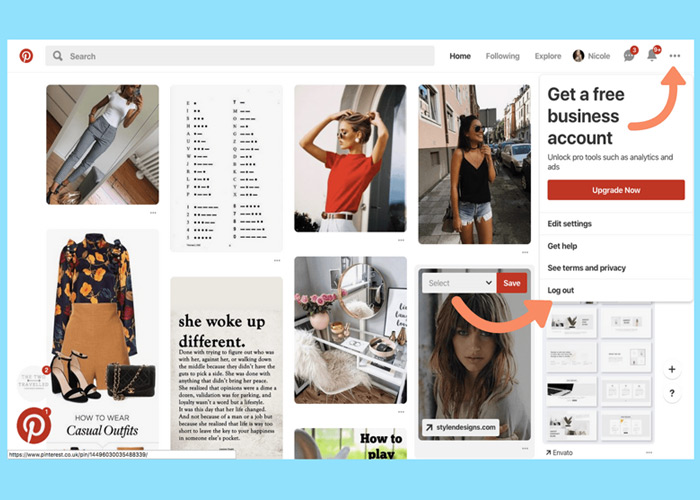 Next, go to Pinterest for Business and click "Join as a Business".
Fill out details about your business and the person who will manage the account. Once that's complete, just read and accept Pinterest's Terms of Service and click Create Account.
So, that's it! Now you're ready to start Pinning.
How to Convert Your Personal Account to a Pinterest for Business Profile
If you already have a personal account and want to make the move to a Pinterest for Business account, making the switch is easy! First, log in to your profile.
Next, click on the three dots symbol on the top right-hand corner of your screen and select "Upgrade your account". You can also follow this link to convert to a Pinterest for Business account.
You'll need to fill out information about your business and who will be managing your account, and once you've completed the form, just click "Done".
Once you've completed these steps, you will now see all the Pinterest for Business profile features like Pinterest Analytics and Pinterest Ads!
Also Read:
How to get verified on Pinterest ? Red check mark
2. Brand your profile in Pinterest marketing
The second step to having a presence on any social media network is to brand your profile.
You need to take the measures to brand your Pinterest profile so that it's easily recognizable as belonging to your company. Each social media platform has its own customization features to allow you to add your own touch onto it.
Let's talk about how you can make your Pinterest profile your own.
Choose a cover board
Select up to five showcase boards
Upload a profile photo
Write your bio
Brand your board covers
Verify your website
3. Create captivating content for Pinterest business profile
Visuals speak volumes on Pinterest. In fact, in a Pinterest study, 85% of Pinners place more importance on visuals than text. But that doesn't mean you should slack on your copy. In addition, your pins should be designed to deliver on all fronts.
What makes a good pin?
Vertical imagery. Exactly 85% of Pinners are on mobile. Shoot for a 2:3 aspect ratio so your image doesn't get truncated, and aim for the highest quality.
Descriptive copy. Tell people what they're seeing, and entice them to want to learn more.
Text overlay. Consider including a headline that reinforces your message.
Tasteful branding. Include your logo your brand doesn't get lost in the RePin shuffle.
Good storytelling. Once you hook people in, show your brand in action. That way Pinners can imagine themselves as customers.
4. Build a community in Pinterest marketing
Online communities bring together like-minded people and serve as helpful hubs for businesses.
With a Pinterest community, you can count on your followers and fans to interact with your boards, consume your content, and make their way to your website — driving traffic in the process.
There are over 335 million people who use Pinterest every month. By treating your Pinterest board as a two-way street through which you can interact with and engage users (not like a one-way billboard), you can build a loyal community of Pinterest users who may become customers, too.
Also Read:
Content Marketing and PPC Advertising to Increase Website Traffic
5. Focus on Pinterest SEO
Pinterest is essentially a visual search engine, which means it has its own algorithm and its own search engine optimization rules. You need to focus on your Pinterest SEO and implement these rules on your own profile to see your ranking increase.
There are three different places that you need to be focusing on your keyword usage throughout your Pinterest marketing strategy.
Also Read:
Improve Your SEO Ranking + Step-by-Step Guide
6. Plan you pins while Pinterest marketing
Pinners like to plan ahead. Way ahead. That means brands have to be even better planners. Pinterest recommends sharing seasonal content 30-45 days in advance.
Unsurprisingly, content that is timely sees a corresponding holiday boost. According to Pinterest, promoted pins that align with life moments and holidays see a 22% lift in online sales.
7. Educate Pinterest customers
Research your buyer personas to determine what type of content would be most helpful and appealing to them.
Survey and ask your current followers and customers for feedback on what they want from your company on Pinterest.
Look at what your competitors are doing well (or not) to help you think about new ways to push out your content and make it unique.
View the boards of your current followers and customers to aid in your understanding of who your audience is and what they're most interested in.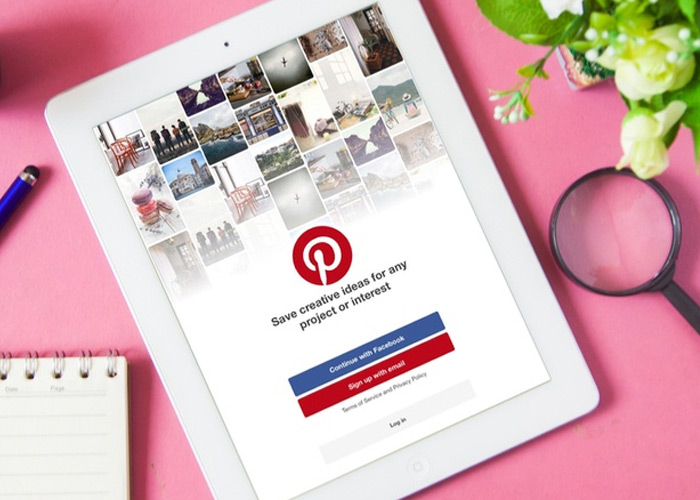 8. Leverage keywords to improve your business
By using keywords throughout your profile, posts, Pins, and boards, you'll be more likely to organically appear in users' feeds and searches. Keywords and phrases on Pinterest are related to specific niches being searched by users.
Here are some locations in which you can insert keywords on Pinterest to improve your chances of organically ranking through search:
Bio and profile
Pin descriptions
Board titles
Board descriptions
9. Make it easy for Pinners to shop
Pinners, as we know, like to shop. So, make it easy for them.
One way to do this is with Shop the Look pins. These pins streamline the online retail process by allowing people to click on the specific home décor or fashion item that interests them. Links take them directly to the product page so that they can buy something immediately if they wish.
Pinterest also recently introduced a Shop tab for business profiles. This dedicated tab allows Pinners to shop a company's products directly from their profile. While it's still new, it shows promise to be an effective point-of-sale for businesses.
10. Add hashtags to your Pinterest marketing content
Hashtags  are keywords and phrases preceded by the "#" symbol.
Hashtags on Pinterest work the same way they do on most other social media sites (like Instagram, for example) and when leveraged, make your content more search-friendly.
They are certainly used to help users identify Pins and boards about a specific topic they're searching.
Also Read:
Instagram Hashtags Guide: How to use Instagram Hashtags in 2021?
Start Marketing On Pinterest
Pinterest is a powerful marketing tool with the ability to help you organically increase brand awareness, boost conversions, increase sales, and create long-lasting relationships with your target audience and buyer personas.
So, you can achieve all of these things for your business by following the Pinterest marketing strategies we reviewed. You can also try incorporating the available tools and resources to help you succeed as a business on the platform.
Therefore, sign up for a business account and begin creating unique and engaging content to market to your customers and followers on Pinterest.
Most importantly, all your efforts on Pinterest can be improved by paying close attention to Pinterest Analytics. Stay on top of Audience Insights so you can plan and refine your work.