Spider-Man fans must be having a hell of a time these days with Spider-man: Across the Spider-Verse out and now, Sony revealing the Spider-Man 2 PS5 release date.
During the Summer Game Fest, Insomniac revealed an October 20 release date for Spider-Man 2. One of the game's biggest mysteries seems to be the identity of the game's main villain Venom. However, Insomniac revealed that he won't be comic book mainstay of the character, Eddie Brock.
Spider-Man 2 features
In Spider-Man 2, players have the opportunity to take on the roles of both Peter Parker and Miles Morales. Throughout the campaign, there are different points where you control each Spider-Man. In the open-world setting of Manhattan, Queens, and Brooklyn, players can seamlessly switch between the two characters as they explore. Insomniac Games has created unique stories and missions for each Spider-Man, providing exclusive content for both.
The game features several confirmed villains, including Venom, Lizard, and Kraven. The characters' arms reflect their new abilities, with Peter utilizing the symbiote and Miles harnessing his evolved bioelectric Venom powers.
For those who pre-order any version of the game, there are special bonuses included. These bonuses consist of the Arachknight Suit for Peter, along with three additional color variants, as well as the Shadow Spider Suit for Miles, also with three additional color variants. Additionally, players will receive an early unlock for the Web Grabber gadget and three skill points.
Spider-Man 2 Deluxe Edition features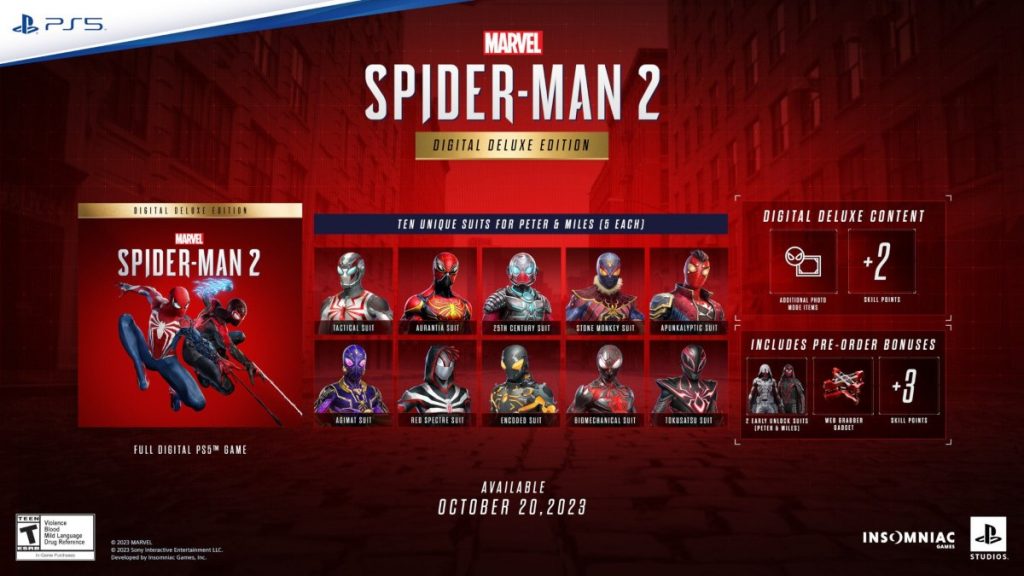 The Digital Spider-Man 2 Deluxe edition encompasses the base game, the pre-order bonuses, and an assortment of extras. This edition offers a total of 10 distinct suits (five for Peter and five for Miles), as well as supplementary features such as additional frames and stickers for the Photo Mode. Furthermore, two extra skill points are included in this edition.
These 10 suits were created by guest artists such as Kris Anka, Julia Blattman, Sweeney Boo, Anthony Francisco, Raf Grassetti, Jerad Maantz, Joel Mandish, Darren Quach, and Victoria Ying.
Additionally, the Collector's Edition comprises a voucher for the Digital Deluxe Edition, a Steelbook case, and a 19-inch statue that showcases Spider-Men engaged in combat with Venom.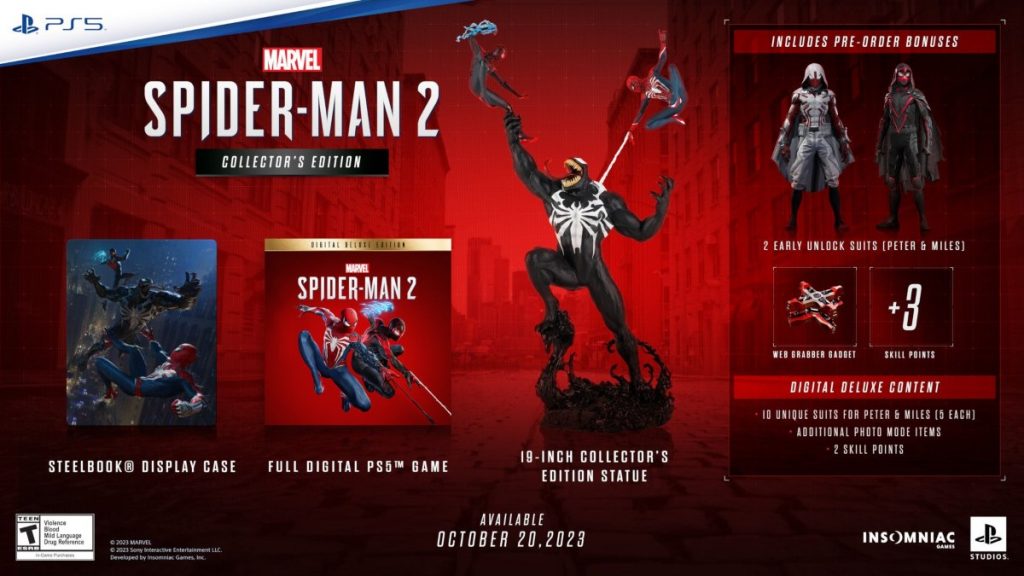 Sony extensively showcased Spider-Man 2 during its PlayStation Showcase, providing in-depth details. In a subsequent interview, it was revealed that the Venom Suit in Spider-Man 2 would be more aggressive and brutal compared to its previous versions. Furthermore, the creative director of Spider-Man 2 confirmed the size of the game's map. And there was a surprise appearance of secret gameplay in Across the Spider-Verse.
The reveal of Spider-Man 2 PS5 release date was among the numerous announcements during the event. Other announcements also included previews of Final Fantasy 7 Rebirth and a new Prince of Persia announcement.
Read More:
---
Has the creative director revealed any details about the size of the game's map in Spider-Man 2?
Yes, the creative director has confirmed that the map in Spider-Man 2 will be big, although specific details about its size have not been provided.
Were there any surprise appearances or crossovers in relation to Spider-Man 2, as seen in Across the Spider-Verse?
Yes, secret gameplay footage from Spider-Man 2 made a surprise appearance in Across the Spider-Verse, generating excitement among fans.