Alonso "super happy" for Ocon after win
Fernando Alonso had a great race to finish P5 in Hungary and played a key role in keeping Lewis Hamilton behind him which allowed his teammate Esteban Ocon to hold on for the victory. The Spaniard had a great battle with Hamilton and managed to keep him behind for much longer than anyone would ahve expected.
"I didn't know that was enough to hold the victory for Esteban," Alonso said to Sky F1 after the race. "With ten laps to the end we tried to hold fourth position but eventually it was not possible. Lewis had an amazing pace in the last couple of laps.
After changing a few lines, he was able to overtake Carlos a lap later. It wasn't difficult to overtake. He took 4-5 laps to figure it out."
On the dramatic start
"I was on the outside. Everything was a mess at the moment. When I rejoined the track another three cars collide – Stroll/Leclerc. Probably a luck moment that dictates the rest of the race."
Apart from the start it was a great race for Alosno but the two-time champions wants more.
"One day, I hope to be lucky enough to be on the podium. I am happy to score points in 5th and 6th but I am super, super happy for Esteban. It's a day that he will never forget. But not only for him but for everyone at Enstone. They are working flat out. The results are not easy. We are in a tough and not competitive moment of F1."
Formula 1 : Alonso eyeing 'free positions' if rivals clash on lap one
Lewis Hamilton fumed at Fernando Alonso while trying to pass the Spaniard late on in the Hungarian Grand Prix. The Brit was frustrated at being stuck behind Alonso and told his engineer "at that speed it's so dangerous man" after the Alpine star defended an overtake.
Formula 1
Nico Rosberg was on co-commentary for Sky Sports F1 and he saw no issue with Alonso's car positioning, saying: "It was fine."
Alonso surprisingly found himself towards the front of the pack after Valtteri Bottas caused a huge crash on the opening lap.
Four cars were forced to retire because the Mercedes man drove into the back of Lando Norris.
A red flag halted the race and when all cars returned for the formation lap it started to rain.
The field then returned to the pits for different tyres – apart from Hamilton who stayed out to do the restart on his own.
That proved to be a huge error as the seven-time world champion came out at the back of the pack and had to fight through the field.
He found it difficult to pass Alonso but finally got his breakthrough with four laps remaining.
That gave him enough time to pass Carlos Sainz and take third place.
Esteban Ocon was the surprise winner with Sebastian Vettel in second.
"I'm obviously a little bit disappointed because I felt I was faster for the majority of the race," Vettel said.
"But he didn't make a single mistake. I pushed very hard."
After finishing third Hamilton said: "Firstly I want to congratulate Esteban, he's been a shining star for such a long time now. It's been a long time coming and I'm really happy for him. It's also great to see Aston Martin up there – their best result so far, and I know there's more to come.
"Today was definitely tough, we always make it difficult for ourselves. It's crazy to think we were the only ones on the grid at the start but these things happen, and we learn from them. I gave it everything, and I had nothing left at the end.
"I was telling the team how the track was through the lap (before race restart) but they said rain was coming when I got back in the car, so I thought they had other information. I then saw everyone diving in (to the pits)…
"We came in this weekend and didn't know how it was going to go, and considering the circumstances today I'll take it."
Fernando Alonso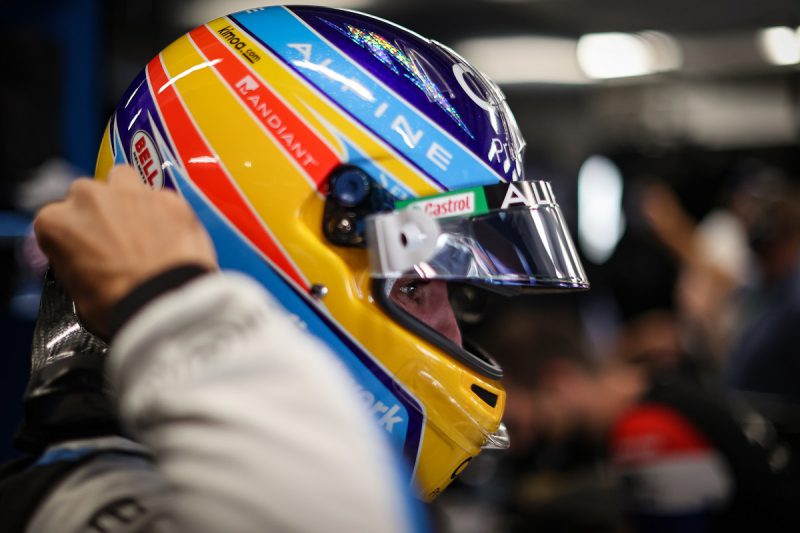 Alonso looking to gain 'free positions' in Hungarian GP start
Fernando Alonso says being "clever" into Turn 1 of Formula 1's 2021 Hungarian Grand Prix will earn "positions for free" should Max Verstappen and Lewis Hamilton collide once again.
The Alpine driver qualified ninth – one place and 0.06s behind teammate Esteban Ocon – in Budapest after enduring what he reckoned to be a supposed drop off in the Pirelli soft tyre performance in Q3 compared to the previous set he had used for his Q2 flying lap.
Alonso still heralded a "very important Saturday" at a tight circuit where it is notoriously "difficult to overtake" and reckoned his ninth spot would provide a greater benefit off the line, the Spaniard set to launch from the clean side of the grid, which is "more noticeable" in Hungary.
But he warned of the caution needed into the first corner should third-starting Verstappen and polesitter Hamilton clash in consecutive races following their controversial first-lap collision in the British Grand Prix earlier this month.
Double world champion Alonso reckoned drivers could gain positions "for free" if they were "clever" and were able to avoid getting involved in "a little bit of action" at the front.
He said: "I think it is going to be hotter in front of us. We will try to recover places. I think we can.
"In my case, I start on the clean side. This is one of the circuits that it is more noticeable starting on the clean side.
"My wish is to finish a little bit higher in the first lap. But I think we need to be careful because in front of us…I think something could happen tomorrow again.
"We have Max starting on the [quicker] red [sidewall soft] tyre, Lewis on the yellow [medium compound]. We have [Sergio Perez, fourth], [Pierre] Gasly [fifth] also.
"Behind them, [Lando] Norris and [Charles] Leclerc, which are some of the best starters. The first corner is going to be a little bit of action.
"We need to be clever to stay out of any trouble and benefit from whatever happens in front.
Alonso did explain the need to be wary with Daniel Ricciardo starting the race in 11th, the McLaren driver therefore gaining free choice for his starting tyre compound.
But Alonso rated his chances of scoring a sixth point-paying finish in a row, a run of form stretching back to a sixth-place score in Baku in June.
He said: "I will love to be in the points tomorrow – whatever position but in the points.
"We've been scoring for many, many races already. We start in eighth and ninth so maybe we are not too far from what we could achieve.
"But there are cars behind us, especially Ricciardo starting 11th, probably with a harder compound etc, that will be difficult to manage to stay in front of him."
also read :
Sebastian Vettel "disappointed" with shock P2 finish
Sebastian Vettel made the most of the bizarre Grand Prix to take a shock P2 at the Hungarian Grand Prix. The Aston Martin did everything he could and in the end was not far off Esteban Ocon which left the German feeling disappointed as the victory was in sight.
"I am a bit disappointed but Esteban didn't do a single mistake. It's not an easy track to overtake. It's a great result for us but when it's that close you are always looking at the win than second," Vettel said immediately after the race.
"We are very close on Esteban in terms of pace. I pushed so hard for him to make a mistake."
Alonso eyeing 'free positions' if rivals clash on lap one
Alpine's Fernando Alonso is anticipating "action" on the opening lap of the Hungarian Grand Prix, which he hopes will lead to free positions.
The Spaniard is set to start the race from ninth on the grid, one spot behind team-mate Esteban Ocon.
Alonso has built a reputation across his career as being one of the best starters on the grid, as he has shown ability to make up positions on the opening lap of grands prix.
With the way the grid order is set for Sunday's race, Alonso states that there may be incidents in the opening sequence of corners, which he aims to capitalise on.
"We will try to recover places, I think we can," Alonso said. "In my case I start on the clean side, it's one of the circuits where it is more noticeable, than the clean side, so my wish is to finish a little bit higher in the first lap.
"But I think we need to be careful because in front of us I think something could happen again because we have Max [Verstappen] starting on the red tyre, Lewis [Hamilton] on yellow.
"We have Checo [Perez], [Pierre] Gasly, and behind them [Lando] Norris and [Charles] Leclerc, which are one of the best starters, Norris and Leclerc, so [the] first corner is going to be a little bit of action.
"We need to be clever to stay out of any trouble and benefit from whatever happens in front of us. So we want a clean first lap because maybe there are some positions that come for free."
Last time out at F1's first Sprint Qualifying race at Silverstone, Alonso made up six positions on the opening lap, progressing from 11th to fifth.
The 40-year-old is targeting his sixth consecutive points finish, as he looks to continue his consistent run midway through the 2021 season.
Alonso: Two Alpines in Q3 eased pace concerns
Fernando Alonso said Alpine were unsure how well they would fare in Hungary, so getting both cars into Q3 was a good result.
The midfield battle has broken off into three different sections and in the middle one, Alpine find themselves nine points behind P5 outfit AlphaTauri.
It is the kind of deficit which can easily be overturned, especially when both cars will start the Hungarian Grand Prix from inside the top 10.
Esteban Ocon claimed P8 on the grid, while Alonso will line up P9 – a result that satisfies the team after Alonso revealed some concerns they had over their competitiveness at the Hungaroring.
"Happy with the day," Alonso told reporters after qualifying.
"I think it was a circuit that we had some concerns about our level of competitiveness, but both cars in Q3 – it's a while that we didn't achieve it.
"So that was a good weekend so far, but the points are given tomorrow so we need to execute a good race.
"I think here everything is based on Saturday and it's difficult to overtake, so hopefully we get a good start and after that we will be managing the tyres and managing the positions.
"So we have a high chance to score with both cars and that is the target for tomorrow."
Ocon said the Hungaroring is one of his favourite tracks and is glad to be starting P8 at a venue where overtaking does not come easily.
"It was a very decent session," he said.
"I think there was quite a lot of understanding going through it because we didn't have such great pace in Q2, it was just enough to go through.
"But once we arrived in Q3 really it started to come together. I'm pretty pleased because it's one of my favourite tracks here.
"I enjoyed that session, it was hard work. It is good to start in the points because it's hard to pass here, so a good starting position for tomorrow."
Asked if his race pace will be enough to fight or simply hang on, Ocon replied: "I think first we have the race pace to hang on. We will definitely aim to attack, obviously in front.
"But that will be another story, the track temperature will go up, it will be hard to manage the tyres but we are aiming for big points."
Fernando Alonso Díaz
(Spanish pronunciation: [feɾˈnando aˈlonso ˈði.aθ] (About this soundlisten); born 29 July 1981) is a Spanish racing driver currently racing for Alpine in Formula One. He won the series' World Drivers' Championship in 2005 and 2006 with Renault, having also driven for McLaren, Ferrari and Minardi. With Toyota, Alonso won the 24 Hours of Le Mans twice, in 2018 and 2019, and the FIA World Endurance Championship in 2018–19. In 2019, he won the 24 Hours of Daytona with Wayne Taylor Racing.
Born in Oviedo, Asturias to a working-class family, he began go-karting at the age of three and achieved success in local, national and world championships. Alonso progressed to car racing at age 17, winning the Euro Open by Nissan in 1999 and was fourth in the International Formula 3000 Championship of 2000. He debuted in Formula One with Minardi in 2001 before joining Renault as a test driver for 2002. Promoted to a race seat in 2003, Alonso won two drivers' championships in 2005 and 2006, becoming (at the time) the youngest pole-sitter, youngest race winner, youngest world champion, and youngest two-time champion in the sport's history. After finishing third with McLaren in 2007, he returned to Renault for 2008 and 2009 and won two races in the former year for fifth overall. Alonso drove for Ferrari from 2010 to 2014, finishing runner-up to Sebastian Vettel in three tightly-contested title duels in 2010, 2012, and 2013. A second stint with McLaren from 2015 to 2018 resulted in no further success.
At the time of his first retirement, Alonso had won 32 Formula One races, 22 pole positions, and 1,899 points from 311 starts. He is currently the only Spanish Formula One driver to have won either a Grand Prix or the World Championship. He won the 2001 Race of Champions Nations Cup with the rally driver Jesús Puras and the motorcyclist Rubén Xaus for Team Spain and thrice entered the Indianapolis 500 in 2017, 2019 and 2020. Alonso has been awarded the Prince of Asturias Award for Sports, the Premios Nacionales del Deporte Sportsman of the Year Award and the Gold Medal of the Royal Order of Sports Merit and has twice been inducted into the FIA Hall of Fame. He runs an eSports and junior racing team and is a UNICEF Goodwill Ambassador.
Is Fernando Alonso single?
Fernando Alonso is currently dating 32-year-old Italian model Linda Morselli, with the pair first getting together in 2016. … Fernando was previously married to Spanish singer Raquel de Rosario.
Who is the richest racing driver?
1:Michael Schumacher
The Schumacher brand continued to grow once he retired from racing after a brief comeback with Mercedes in 2010, with his net worth currently estimated at around $780 million.
How many F1 drivers have died?
Fifty-two drivers have died from incidents that occurred at a FIA World Championship event or while driving a Formula One car at another event, with Cameron Earl being the first in 1952.
Formula One (also known as Formula 1 or F1)
is the highest class of international auto racing for single-seater formula racing cars sanctioned by the Fédération Internationale de l'Automobile (FIA). The World Drivers' Championship, which became the FIA Formula One World Championship in 1981, has been one of the premier forms of racing around the world since its inaugural season in 1950. The word formula in the name refers to the set of rules to which all participants' cars must conform.[1] A Formula One season consists of a series of races, known as Grands Prix, which take place worldwide on both purpose-built circuits and closed public roads.
The start of the 2018 Austrian Grand Prix
The results of each race are evaluated using a points system to determine two annual World Championships: one for drivers, the other for constructors. Each driver must hold a valid Super Licence, the highest class of racing licence issued by the FIA.[2] The races must run on tracks graded "1" (formerly "A"), the highest grade-rating issued by the FIA.[2] Most events occur in rural locations on purpose-built tracks, but several events take place on city streets.
Why do they call it Formula 1?
The World Drivers' Championship, which became the FIA Formula One World Championship in 1981, has been one of the premier forms of racing around the world since its inaugural season in 1950. The word formula in the name refers to the set of rules to which all participants' cars must conform.
What is the top speed of a Formula 1 car?
397.360km/h
The 397.360km/h (246.908mph) stands as the official F1 top speed record, just shy of Honda's 400km/h goal with the project.
How do F1 drivers pee?
So well, you might be thinking, Yeah well, THEY DONT have any such set-up! Instead, F1 drivers pee inside their race suits during the race. … They simply pee inside their suits.
Why is F1 so expensive?
It is expensive because to maintain a team and pay the staff, drivers and transporting the cars and equipment from one country to another on a fleet of cargo planes is not cheap. The sponsors pay the drivers and constructors but to maintain a F1 race circuit is expensive and is used only once a year.