EA has officially unveiled Madden NFL 24, revealing the game's release date, some of its features, and Madden 24's deluxe edition. According to senior design director Connor Dougan, this year's game focuses on "foundational football," which means that various aspects of the game have received significant attention and improvements.
Moreover, Franchise players can anticipate several new features, while the beloved Superstar mode makes a comeback, placing greater emphasis on shaping and developing your own NFL athlete throughout their entire career. Here is a comprehensive overview of all the essential information you should know about Madden 24.
Madden 24 Beta start time
Madden fans need to be patient as EA has not disclosed the exact start time for the beta yet. Nevertheless, it has been confirmed by the team that a beta will take place. Based on previous years, it is highly probable that the beta will commence later this month.
Madden 24 release date and cover star
EA will release Madden NFL 24 on August 18 for PC, Xbox Series X|S, and PS5. Players who pre-order the Deluxe Edition will enjoy full game access three days earlier on August 15, along with extra virtual items.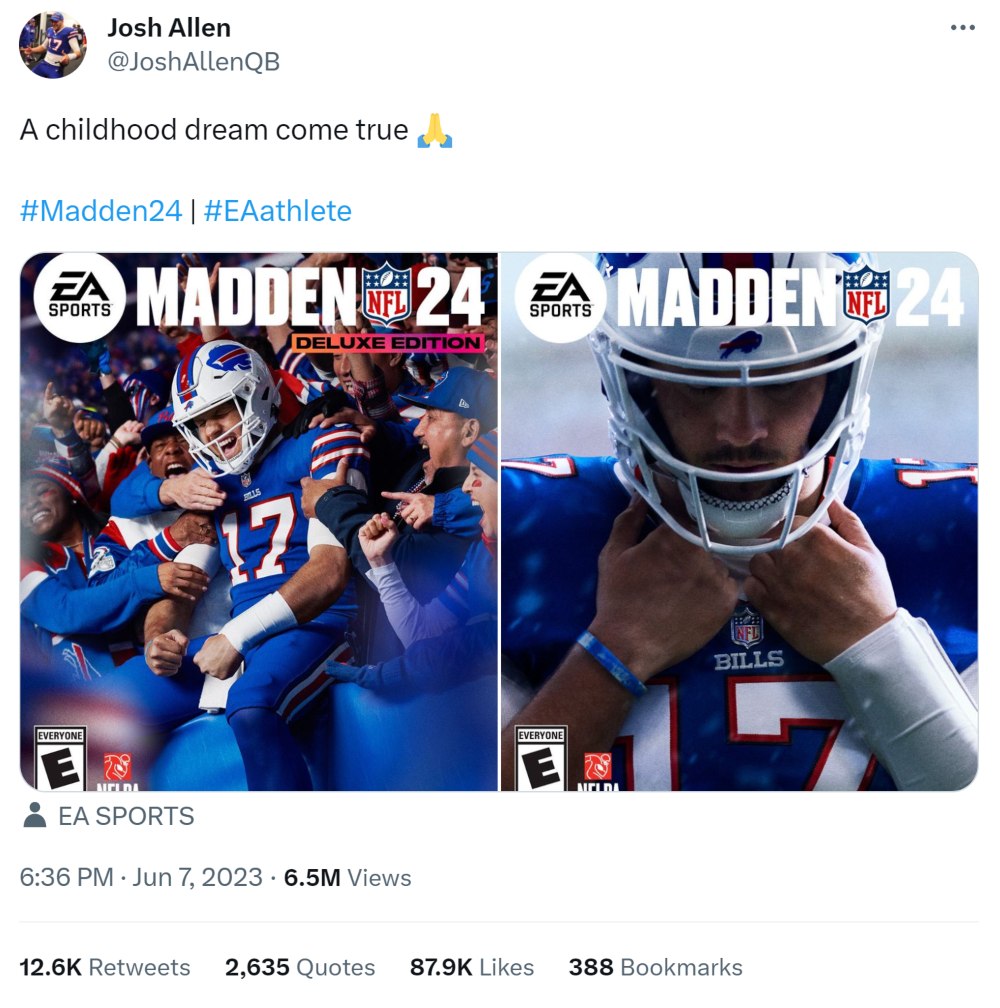 Buffalo Bills' fans might be ecstatic right now since Madden 24's cover athlete is none other than Bills' quarterback Josh Allen
Madden 24 gameplay features
Madden developer EA Tiburon has worked on refining the fluidity of gameplay through last year's Fieldsense system. This year, the game aims to build upon that foundation by introducing adjustments to wide receivers. The goal is to enhance their ability to catch the ball in stride, particularly with the implementation of the Skill-Based Passing system.
Consequently, receivers will no longer need to decelerate to make well-placed catches. To further diversify the on-field experience, new animations such as diving catches and no-look passes have been incorporated. Similar efforts have been made on the defensive side, where new wrap tackles, scoop tackles, and Hit Stick animations have been introduced.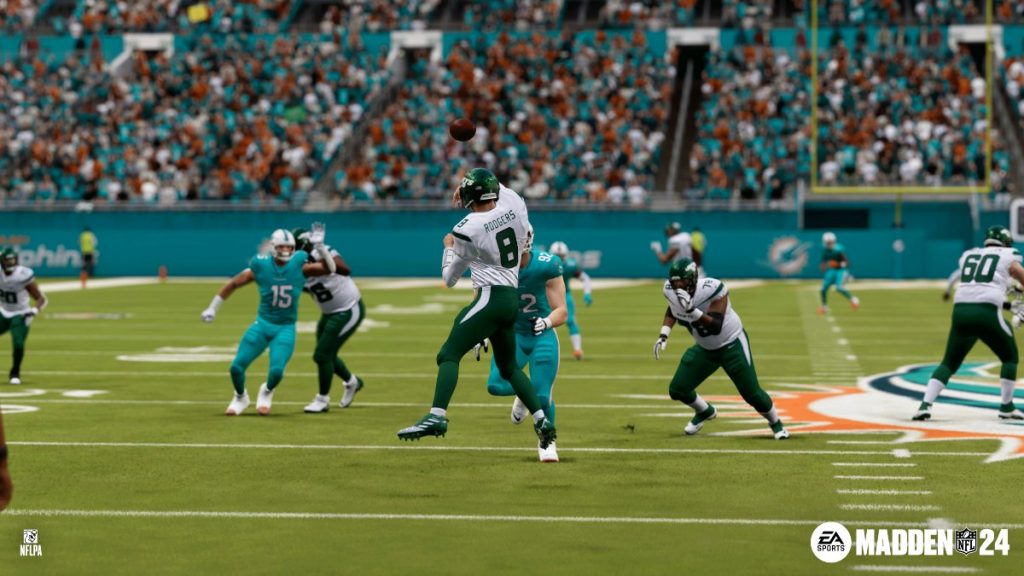 EA Tiburon has emphasized that the focus on foundational football permeates various aspects of the game. Notably, a Tactical Blocking System has been introduced to enhance the blocking logic. This system enables linemen to make more intelligent decisions regarding their blocking assignments, which addresses a common complaint within the Madden community.
Furthermore, additional logic and animations have been implemented to enable chip-blocks, linemen dynamically adjusting between double teams, and the ability to push the pile. These collective improvements specifically aim to elevate the running game.
Madden 24 crossplay confirmed!
AI behaviors in Madden have undergone notable improvements. EA has introduced the Skill-Based Passing system for CPU quarterbacks, which was previously exclusive to human players. Additionally, defensive backs now exhibit quicker reactions to visible balls, such as those on slants and crossing patterns. Conversely, their reactions will be slower when the ball is behind them. These adjustments aim to increase the number of break-ups and interceptions on challenging cut patterns while reducing the instances where defensive backs appear to possess an uncanny sense of the ball when their back is turned.
To enhance realism, fumble animations have been incorporated, resulting in more authentic pile-ups. New scoop-and-score animations have also been introduced. Onside kicks now feature improved bouncing ball physics, potentially increasing the chances of success for the kicking team. However, the intention is to maintain the low-percentage nature of onside kicks, aligning with their real-life counterparts.
One notable addition among the game's key new features is the implementation of Sapien technology. This technology represents a comprehensive overhaul of the player skeleton system, a substantial undertaking that has not been tackled in years. With the revamped skeletal structure, player size and athleticism exhibit more differentiation, resulting in smoother animations.
The impact of the Sapien technology extends beyond cosmetics, promising to enhance the overall fluidity of movement in the game. Building upon the advancements brought by Fieldsense in the previous year, the introduction of Sapien technology further refines animations and movement, provided the team's intentions are successfully realized.
For the first time in the Madden series, cross-play functionality is available, allowing players on different platforms to compete against each other. However, there are specific considerations and nuances associated with cross-play, which are further explained in our comprehensive Madden cross-play guide.
Madden 24 Franchise mode and Superstar mode make a return
Some players prioritize the Franchise mode above all else in Madden. EA has been promoting the introduction of new commissioner tools for a while, and the changes in Madden 24 Deluxe Edition were carefully selected with input from the community.
Commissioners now have the ability to adjust the relationship between age and XP. Previously, younger players required less XP to earn skill points, with the milestones increasing as players aged. However, these specifics can now be customized according to preference. Regression sliders are also adjustable, allowing commissioners to fine-tune the age at which players start to experience a decline in performance. Additionally, commissioners can disable M Factors, which simulate home-field advantage and momentum, a feature that hasn't always been well-received by the community.
A frustrating aspect of the game, which some believed to be a bug, was the automatic reordering of the depth chart whenever a roster move was made, such as signing or releasing a player. This issue has now been addressed with a dedicated toggle, enabling players to make moves without the depth chart being reset to the game's default settings each time. Contract restructuring has been introduced this year, allowing players' salaries to be reduced to the league minimum while spreading out the remaining amount as bonus money across the remaining years of the contract. Madden 24 also features expanded trade slots, allowing for more significant trades akin to those involving players like Russell Wilson. Commissioners can customize the number of free agency bids allowed per team during each free agency period. Play cooldowns, previously present in the game, can now be individually set for offense and defense.
Superstar mode's return will undoubtedly excite the fans!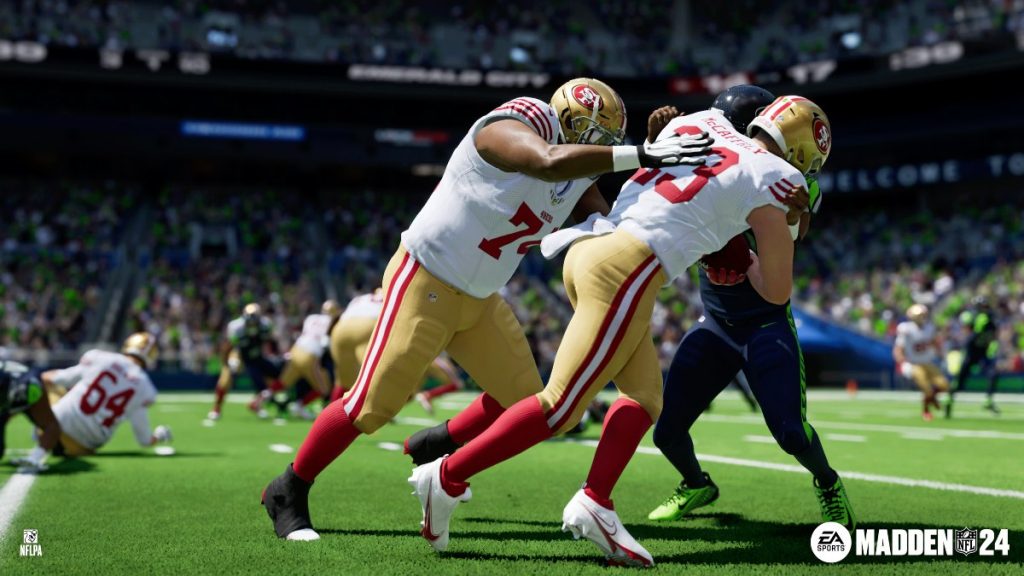 Madden 24 and Madden 24 Deluxe Edition have replaced the Face of the Franchise mode with the mode it once replaced. Superstar mode makes its return, and according to Dougan, the decision to revert to the original name was not only for nostalgic reasons. But also because they wanted to create a modernized version of Superstar. Dougan explained that they had been contemplating the potential of Face of the Franchise and realized it could be an updated iteration of Superstar, but they wanted to make sure the changes were implemented correctly before changing the name.
In the new Superstar mode, players will have the opportunity to create their own Superstar character and participate in Combine drills that will influence their draft position. Once drafted onto a team, a moment-to-moment grading system will provide continuous feedback during games, similar to the MyPlayer grading system in NBA 2K.
Dougan explained that players will receive feedback based on their decisions, such as throwing into coverage or failing to cover an opponent if playing as a defensive back. The addition of tiered abilities in the game resembles the popular badge system in NBA 2K. Additionally, players can take their Superstar to Superstar Showdown, a revamped version of The Yard, where they can engage in 3v3 or 6v6 matches against other online players.
Read More: