Livestreaming is becoming more popular especially in Social Media Marketing. As everybody see, TikTok, Instagram Reels, and other video-based social media become more accepted and commonplace. So, Join us today to learn more about this livestreaming app: Bigo Live !
Bigo Live app
It is originally from Singapore and started in 2014 by Bigo Technology. Bigo technology has other popular products like IMO and Likee.
Currently, Bigo live has the biggest set up in China and most of the profit goes to china through the app. They also have their research and development teams in India, the Middle East and the USA as well as they have offices in more than 20 countries with 100's of employees.
What Is BIGO Live?

BIGO Live is a livestreaming app similar to Twitch, based out of Singapore and owned by a Chinese technology company.
Its content is primarily sorted into two categories; online gaming, where people play video games to entertain others, and "showbiz," which largely falls into livestreams of people who are famous in Asia.
The app is popular in Asia, and not as common in the West, but parents may still find their kids using it for various reasons, such as popular games being played on there.
It's unusual in that users can give streamers currency called "beans," which are bought through the app and translate to roughly 210 "beans" on the US dollar. Oddly, the site doesn't make it particularly clear how the beans system works, which is a major warning flag for any in-app purchase.
The in-app purchases range from ₹69 to ₹6,000 on Google Play Store and Apple App Store.
Bigo Live users
Bigo Live is one of the fastest-growing live streaming application and spread its branches over 150 countries and currently, they have more than 400 million users on the app.
Although Bigo is popular for its video streaming feature besides this they allow to run audio streaming, Live Game broadcast, Group chat and private video chat rooms. these features encourage the audience to use application and drive huge traffic of viewers and official streamers on the Bigo Live app.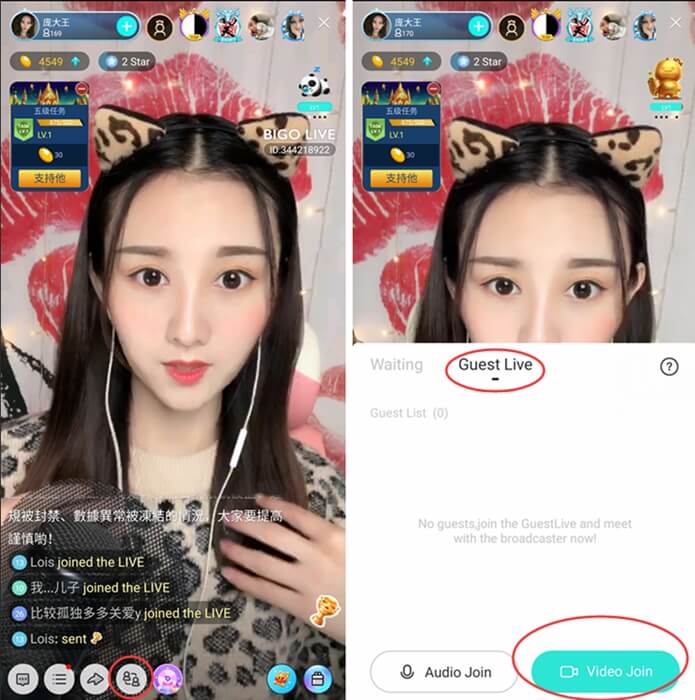 The application itself hire talented creators across the world on a contract base and pay them for streaming on mobile. Contracted streamers have to entertain live viewers through their talents such as singing, dancing, cooking, lectures and many more.
How to make money on Bigo?
Official hosts on Bigo live hast some target to make in a month period like streaming hours and receiving gifts, Once a host complete their target Bigo Live add incentives in their Bigo wallet in form of beans.
Beans are a form of virtual currency which has a value of 210 beans = 1 USD. Viewers while watching stream are allowed to send gifts to the streamer which they purchase by spending actual money. Through this process, Bigo Live provides an opportunity to earn and gain fans and followers.
Some people are totally depended on streaming applications for their income, apart from streaming they empower individuals to make money through recruiting official hosts for Bigo live.
Currently Bigo live has over 5000 official hosts and 3000+ agencies around the globe. Bigo Live pay some commission to its recruiters from the earning of their recruited streamers.
What can you do in Bigo Live?
Bigo Live motivate users to be more creative and showcase their skills on live videos, which also encourage users to be real and feel passionate about their talent.
Bigo became the best way to communicate with a huge audience and connect to real people.
Unlike other platforms streamers don't need to accept requests and share profile to gain viewers. Bigo Live's AI and algorithms are so strong that creative people will randomly get genuine viewers and followers.
How to use it for business?
For being a most popular application in a segment they handle multiple marketing campaigns to promote brands and their products.
They also run in-app campaigns to motivate broadcasters and keep participating in new activities, which drive creators to be more creative and take initiative in change.
Should Kids Be On BIGO Live?
While not seeming actively malicious, BIGO Live is clearly not intended for kids. Teenagers may be fine on there, but you should lay some ground rules.
Stay off the app's currency, and don't give money to anyone on the app. This feature should be blocked with parental control software.
Sit down with your teen. Look at the streams they want to view to be sure there's no content they're not ready for.
Make a list of games that are OK to stream. If they want to use the app, and set rules around streaming, what content can be shown, and what they can say, like any other online gaming platform.
Check-in regularly with them and make sure that they're not being harassed or threatened on the platform.
Set days and times they can stream, such as no streaming until homework's done.
Game streaming can be fun for kids, but it needs to be balanced with other needs. Parental control software can help you keep that balance, and block objectionable content.
Bigo in Covid-19 pandemic situation!
Recently Bigo Live Implemented Free Education service through live streams to take over in COVID 19 pandemic situation. They hire many trainers and teachers from different backgrounds for Language learning, Software training, Skills and Personality development, computers skills and many others.
Celebrities and influencers on Bigo
Applications like Bigo are growing and highlighting many new social media influencers. Moreover, many established influencers are also joining Bigo Live.
Recently in 2021, actors and youtubers also taking interest in the application. Their streaming are getting a tremendous number of visitors that never experienced before.
As Bigo let fans to connect with their starts so conveniently, they can talk and share their feelings directly to them and watching a Realtime expression of celebrities creates a more emotional attachment with fans.
Bottom Line
There are many platforms who are providing video streaming services with adding up extra screen and face filters. But Bigo Live Believe in authentic and genuine broadcasting which connect users emotionally through technology.
They want people to be real and show their real side to create a better ecosystem on application.